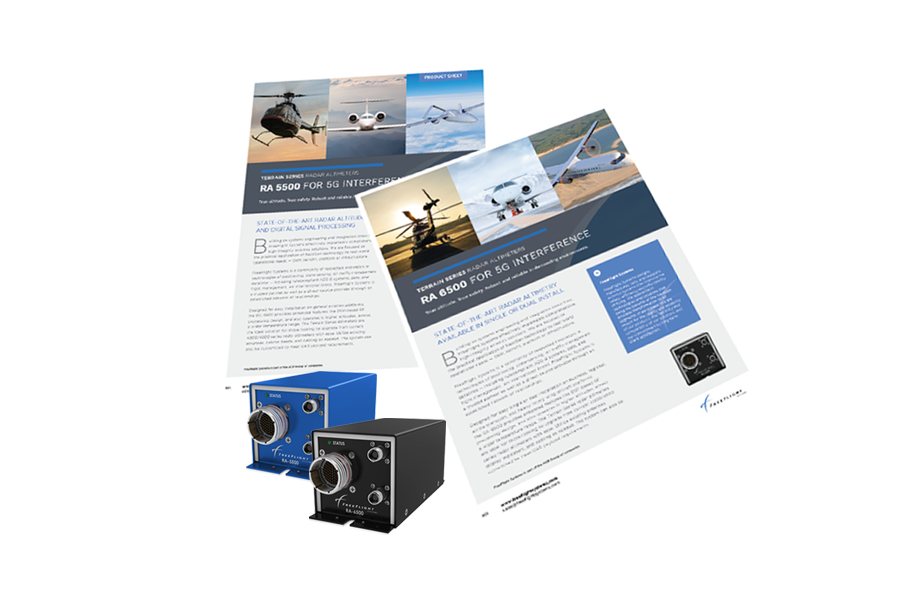 STATE-OF-THE-ART RADAR ALTITUDE AND DIGITAL SIGNAL PROCESSING
FreeFlight Systems' new line of radar altimeters, the Terrain Series, will be available for all segments of aviation including commercial transport, business, and general aviation, military and defense, rotorcraft, and unmanned aviation.
TSO CERTIFIED
The DAL B-rated RA 5500 and 6500 radar altimeters are certified to TSO-C87a and ETSO-2C87, and are approved to DO-160G and DO-178C Level B.
MULTI-INTERFACE
Supports Ethernet, RS-485/422, RS-232, ARINC 429, and ARINC 552 connectivity for easy adoption onboard Part 29 and business jet aircraft.
The landscape of radar altimetry is changing
The FCC recently approved the use of a previously reserved radio frequency (RF) spectrum in the lower C Band (3.7 Ghz - 3.98 Ghz) in support of 5G systems deployment throughout the United States. In practice, this means that the spectrum, previously reserved for low power applications, will now be available to the telecommunications industry for high power transmissions. These high power transmissions have been shown to affect the ability of radar altimeters to accurately provide flight crews with altitude measurement readings. These altitude readings are critical to the aviation industry for safe approach and landing operations, for both manned and unmanned aviation. As such, many of the radar altimeters currently fielded by operators today may experience performance degradations and incorrect altitude readings - an alarming cause for concern in an industry renowned for safety.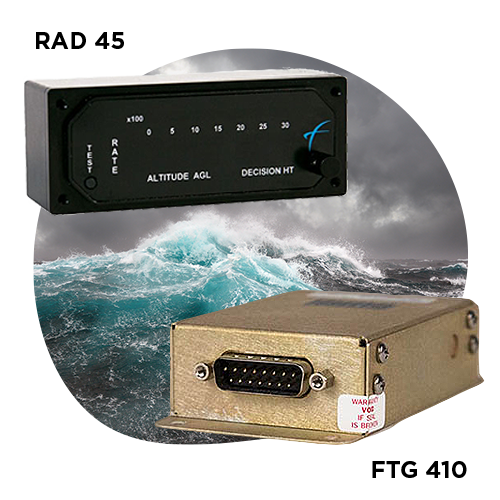 TERRAIN SERIES

ACCESSORIES
Designed for applications where accuracy is critical, Terrain Series accessories provide precise Above Ground Level (AGL) information from 2,500 feet to ground level.
RAD 45

DISPLAY INDICATOR
Available as a standard or night vision goggle (NVG) capable display

The RAD-45 offers an LED readout of AGL and trend information..
FTG 410:
The FTG-410 gives pilots important audio alerts when operating at low altitude

Operate at nighttime, over water, or rough terrain with confidence
CONTACT A SALES REPRESENTATIVE FOR MORE INFORMATION
To learn more, contact a FreeFlight Systems technical expert at sales@freeflightsystems.com to discuss how you can enhance the safety of flight with our RAD 45 and FTG 410 accessories.
TRUE ALTITUDE. TRUE SAFETY.
Need more information? Get in touch with FreeFlight Systems' technical experts to learn more about our Terrain Series radar altimeter solutions.
A LEADER IN NEXTGEN
FreeFlight Systems designs, manufactures, sells, and supports high-integrity avionics systems that improve the safety, efficiency, and affordability of flying. Our solutions are leveraged by all segments of aviation and are designed to help your organization to #ShapeTheSkies.