The landscape of radar altimetry is changing
The FCC recently approved the use of a previously reserved radio frequency (RF) spectrum in the lower C Band (3.7 Ghz - 3.98 Ghz) in support of 5G systems deployment throughout the United States. In practice, this means that the spectrum, previously reserved for low power applications, will now be available to the telecommunications industry for high power transmissions. These high power transmissions have been shown to affect the ability of radar altimeters to accurately provide flight crews with altitude measurement readings. These altitude readings are critical to the aviation industry for safe approach and landing operations, for both manned and unmanned aviation. As such, many of the radar altimeters currently fielded by operators today may experience performance degradations and incorrect altitude readings - an alarming cause for concern in an industry renowned for safety.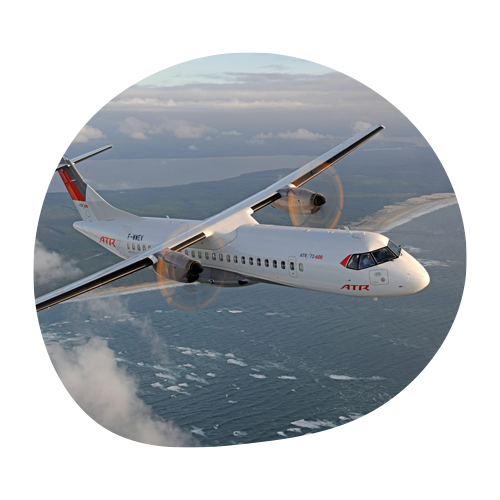 HOW WILL YOUR OPERATIONS BE AFFECTED?
According to a 5G Task Force formed by an RTCA Special Committee, there is a major risk that 5G telecommunications systems in the 3.7-3.98 GHz band will cause harmful interference to radar altimeters on all types of civil aircraft, as well as in unmanned aircraft.
COMMERCIAL AND BUSINESS AIRCRAFT
Radar altimeters are essential components supporting advanced auto pilot systems with automated landing capabilities. Additionally, Ground Proximity Warning Systems (GPWS), which provide pilots with both visual and audible queues of the aircraft's proximity to the ground utilize radar altimeters for a wide number of aircraft operating in various segments of aviation.
TRANSPORT AND UTILITY ROTORCRAFT
Similar to commercial and business aviation, radar altimeters feed critical altitude data to Terrain Avoidance and Warning Systems (TAWS) in helicopters. These systems are integral to the safety of pilots flying both VFR and IFR. A recent report concluded that the likelihood and severity of interference increases for operations at lower altitudes - precisely where radar altimeter information is most important.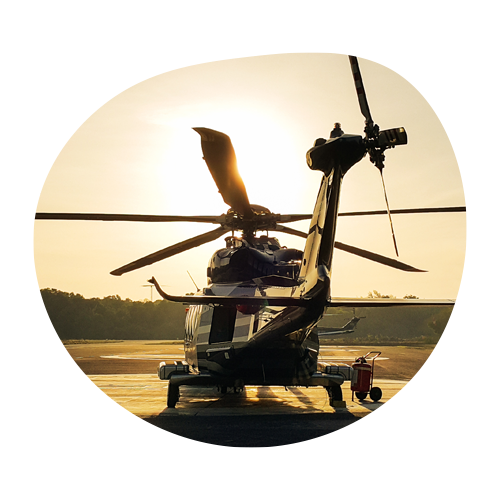 THE FAA'S NEW AIRWORTHINESS DIRECTIVES
To address the impending challenge, the Federal Aviation Administration (FAA) announced two Airworthiness Directives for all transport and commuter category aircraft as well as helicopters equipped with radar altimeters. These AD's were instigated by a determination that radar altimeters cannot be relied upon if they experience interference in the 3.7 GHz to 3.98 GHz frequency range.
NEW RULES IN PLACE MAY PROHIBIT OPERATIONS
Certain operations requiring radar altimeter data, when in the presence of 5G C-Band interference, will be prohibited beginning January 12, 2022. This directive is being issued to ensure the maintenance of aviation's extraordinary safety record. As the industry aligns towards these new guidelines, operators will need to assess operational impacts and define cost-effective ways to ensure continued safety of flight.
HELICOPTER OPERATIONS MAY BE GROUNDED
Airborne law enforcement, air ambulance servies, and other utility rotorcraft face potential grounding due to the telecommunication industry's plan to activate new 5G towers across the United States. The potential grounding will result from an unprecedented number of Notices to Air Missions (NOTAMs) issued by the FAA, with over 1,450 issued NOTAMS preventing pilots from operating near known hazard zones.
WHERE DO WE GO FROM HERE?
As innovators renowned for elegant solutions to complex issues, FreeFlight Systems realized that broad spectrum protection in aviation was steadily being eroded. With over 5,000 installed radar altimeter systems globally, and as an industry leader that developed the first UAT ADS-B solution for the FAA's NextGen mandate, our engineering team realized the profound implications that 5G infrastructure would have on radar altimeters. Predicting the rollout of global 5G networks, the Terrain Series RA 5500 and RA 6500 were envisioned in early 2019. These new radar altimeters, which feature Digital Signal Processing (DSP) technology, can be shielded from potential interference. This effort has culminated into a patent-pending design achieving the highest level of out-band signal rejection available today. The Terrain Series RA 5500 and RA 6500 are scheduled to receive TSO-C87a Class A certification, and represent the first major upgrade to RF circuitry design in decades.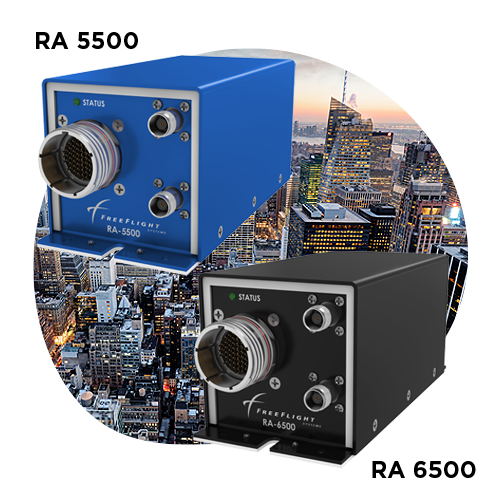 TERRAIN SERIES
RA 5500 AND RA 6500
FreeFlight Systems' new line of radar altimeters, the Terrain Series, will be available for all segments of aviation including commercial transport, business and general aviation, military and defense, rotorcraft, and unmanned aviation.
POWERFUL, HIGH-RELIABILITY RADAR ALTIMETRY:
5G C-Band resistant radar altimeters eliminate interference with unique Digital Signal Processing (DSP) technology
Robust, reliable, and rugged enclosure designed for use in mission-critical and military environments
Single (RA 5500) and Dual (RA 6500) installational capabilities
Interfaces with RAD-45 and other popular display indicators for accurate LED AGL readings
Retrofit capabilities with legacy aircraft utilizing existing antennas, control heads, and cabling
RA 4500 MK II:
UPGRADE PATH FOR RA 4000/4500
For aircraft with existing FreeFlight Systems' RA 4000 and RA 4500 radar altimeters, a simple drop-in retrofit has been designed to ensure minimal impact to operations. To learn more, contact a FreeFlight Systems technical expert at sales@freeflightsystems.com to discuss how you can upgrade to a 5G-resistant solution with all existing wiring, cabling, and install kits.
TSO CERTIFIED
The DAL B-rated RA 5500 and 6500 radar altimeters are certified to TSO-C87a and ETSO-2C87, and are approved to DO-160G and DO-178C Level B.
MULTI-INTERFACE
Supports Ethernet, RS-485/422, RS-232, ARINC 429, and ARINC 552 connectivity for easy adoption onboard Part 29 and business jet aircraft.
HOW DOES FREEFLIGHT SYSTEMS COMPARE?
Learn how FreeFlight Systems' ADS-B, GPS/GNSS, and Radar Altimeter solutions stack up against the competition. FreeFlight Systems' is a leading provider of NextGen products and solutions, and are designed with high-reliability and safety at the forefront.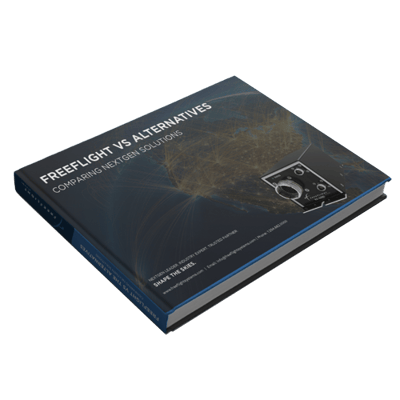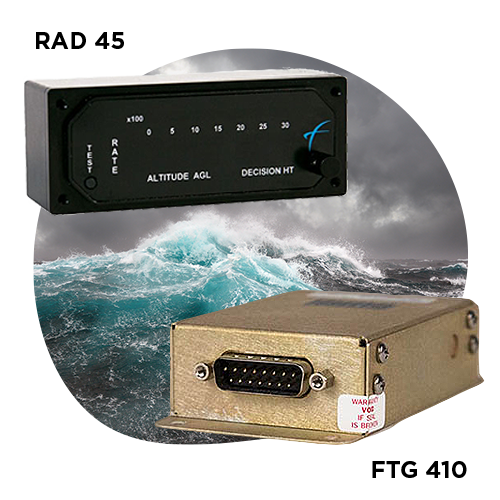 TERRAIN SERIES

ACCESSORIES
Designed for applications where accuracy is critical, Terrain Series accessories provide precise Above Ground Level (AGL) information from 2,500 feet to ground level.
RAD 45

DISPLAY INDICATOR
Available as a standard or night vision goggle (NVG) capable display

The RAD-45 offers an LED readout of AGL and trend information..
FTG 410:
The FTG-410 gives pilots important audio alerts when operating at low altitude

Operate at nighttime, over water, or rough terrain with confidence
CONTACT A SALES REPRESENTATIVE FOR MORE INFORMATION
To learn more, contact a FreeFlight Systems technical expert at sales@freeflightsystems.com to discuss how you can enhance the safety of flight with our RAD 45 and FTG 410 accessories.
TRUE ALTITUDE. TRUE SAFETY.
Need more information? Get in touch with FreeFlight Systems' technical experts to learn more about our Terrain Series radar altimeter solutions.
A LEADER IN NEXTGEN
FreeFlight Systems designs, manufactures, sells, and supports high-integrity avionics systems that improve the safety, efficiency, and affordability of flying. Our solutions are leveraged by all segments of aviation and are designed to help your organization to #ShapeTheSkies.